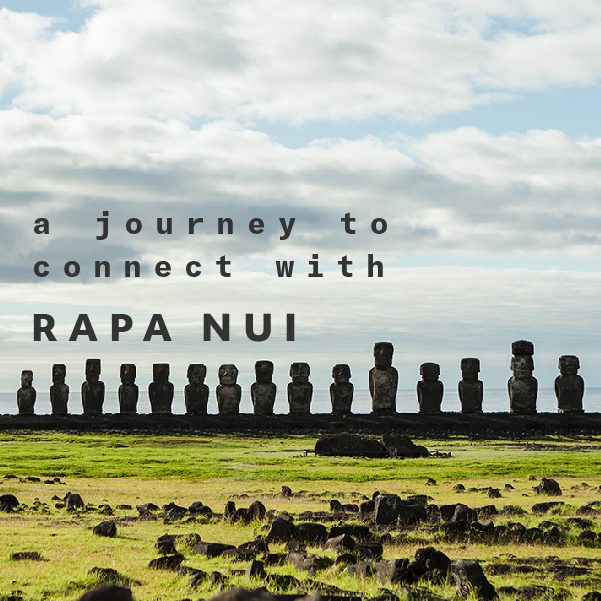 A journey to connect with Easter Island
Find yourself in Rapa Nui, Easter Island, surrounded by the Pacific Ocean. Rapa Nui was once the cradle of a unique and enigmatic culture that continues to endure today. The island's language, music, and countless traditions are kept alive by its proud inhabitants, while the enormous carved stone Moai are tangible testimonies of its enigmatic past.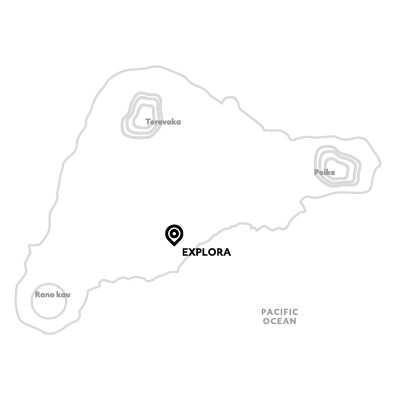 We are natural-born explorers. Our trailblazing attitude takes us on an everlasting journey of mysteries, details and legitimate cultures. Step by step, day by day.
The remote is waiting for you in the heart of South America with its vast wilderness, secluded routes and rich culture –and it is ready when you are. Our award-winning lodges invite you to come live it, love it and learn how every exploration can be a journey to conservation.
Start bonding with your surroundings from the comfort and organic design of our lodge in Easter Island. Each detail tells the story of a remote marvel.
Welcome to the remote. Go deeper with Explora.
OUR LODGE

EXPLORE WITH EXPERTS

WHAT IS INCLUDED

TRAVELERS REVIEWS
We believe luxury is about having all the means necessary to make the most out of the experience, such as a cozy, welcoming environment, and authentically local gastronomic experiences.

This is why every Explora lodge behaves as a haven of rest and restoration amid the remote – to make sure each day in the territory is lived to the fullest.

Explora lodge in Rapa Nui lodge sits on a privileged and secluded location within the island, surrounded by trees, prairies and far-reaching views over the vast, blue Pacific Ocean.

A mystery like no other: discover Rapa Nui's untold stories and astounding cultural landscapes through carefully crafted explorations.

Each moai, volcano and archaeological site is a clue into what anthropologists and archaeologists have yet to understand about the island: how was it inhabited and how did its inhabitation is the larges clue to the inhabitation of the Americas.

Your journey is crafted as it unfolds. Every evening of your stay, assisted by a Explora guide, you will choose from a variety of exploration options your next day's experience.

Explora, which was chosen as the Leading Exploration Company in the world for the third year running, designs its explorations in a unique way so that travelers can experience genuine immersion in remoteness from start to finish.

At Explora Easter Island, there are over 30 different guided hikes, bike rides, snorkeling and scuba diving explorations to immerse yourself in Easter Island. All our explorations are in small groups, have difficulty levels ranging from easy to expert, and have different durations, half day or full day.

Check out the explorations you can go on in Easter Island.

Explore to expand perspectives, surpass limits, exchange life stories.
Explore to embrace new cultures, peoples and feelings.
Explore to go deeper.

We propose a journey where everything is taken care of: accommodation, transportation, meals and beverages. And of course, all explorations in the world's most fascinating locations.

Are you ready to explore Easter Island?

15 DIC 2022

We loved our time at Explora! From first arrival, the staff makes you feel welcomed and comfortable. The attention to detail is great! Yes, it is expensive but you are getting wonderful service and in our opinion was worth every penny. All of the guides really made this place special, Tabby, Mae Mae, Jorge, and all of the others too! They made the excursions fun and informative. Most were Rapa Nui so it was interesting to learn about their lives on the island. Especially liked the snorkeling and the bird man hike. They meet with you every afternoon to plan the next day and make suggestions. We found most of the adventures fairly easy, but that was okay as we weren't looking for a crazy physical challenge during this trip. Nice touch of fruit and drinks when you get back…

Christopher B – Amazing Place to Stay

6 DIC 2022

"I cannot say enough good things about this hotel. It's a luxurious and comfortable oasis in the midst of a fascinating island with a rich cultural heritage. From the very first moment I arrived at the airport, where Explora staff greeted me warmly, gave me a traditional lei, and escorted me promptly to the waiting van, to the last moment when I was presented a beautiful, handcrafted necklace made of local shells when I checked out, this place exceeded all of my (already high) expectations.

The restaurant cuisine was gourmet: fresh, creative and delicious with a fine selection of Chilean wine, all presented by the most attentive and gracious staff. All the rooms have a view of the Pacific. My room featured a very comfortable bed with impeccably pressed, elegant white linens and an abundance of pillows. The shower was strong and hot, very relaxing after a day of exploring the island. They offer turn down service…a nice touch. Of note is that the entire property was immaculately clean. A full breakfast buffet awaits in the morning, and a well-stocked bar awaits in the evening (Michaela make you her coconut and gin cocktail!) Belén, Isabel, Michaela, Amanda…everyone was so friendly and kind, always with a smile on their faces. There is a little gift shop that sells high-end Patagonia hiking clothing, shoes, and truly artistic souvenirs (I bought my Piro Piro moai carving there by a well-known local Rapa Nui artist). The explorations I took were led by fun, knowledgeable, and local guides who themselves had grown up on the island. Each exploration ended with refreshments tastefully presented.

The greatest thing of all about Explora Rapa Nui are the wonderful people who work there. I was impressed with everyone. I was only there two nights and wish it had been 2 weeks! I miss my visit and the people I met there. I left wishing I could somehow stay in the lives of those I met as new friends. I felt like I was at home. It isn't inexpensive, but it's worth every penny. Don't stay anywhere else on Rapa Nui."
About us
We craft in-depth explorations and nomadic journeys in South America's remotest corners, using our award winning lodges as bases from which to go deeper into each territory, and using exploration journeys to drive conservation.