are you ready to explore Uyuni Salt Flat?
Unravel two of the world's most fascinating locations in the journey of a lifetime, traveling across one of the remotest regions on Earth with our itineraries from 7 to 11 nights. Go Deeper.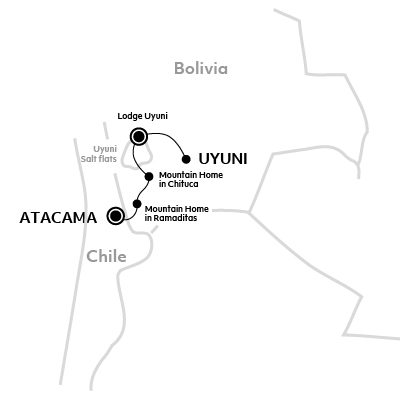 Explora, which was chosen as the Leading Exploration Company in the world for the third year running, designs its explorations in a unique way so that travelers can experience genuine immersion in remoteness from start to finish.
This is a private journey meant for deep immersion in discoveries from destination to destination and everywhere in between. Cross the desert from Chile to Bolivia in a 4×4 vehicle, led by an expert Explora guide and a local driver.
If you really want to see and explore pristine landscapes, enjoy the andean living culture, ride a bike through the salt flat, or just walk through the altiplano, this is the travel of your lifetime. Don´t miss it.
Are you ready to explore?
We take care of everything: accommodation in our awarded lodge and recently launched Mountain Homes, your transportation, meals and beverages. And of course, all explorations in the world's most fascinating journey: Travesía Atacama-Uyuni.