Patagonia National Park Museum – Douglas Tompkins's conservation legacy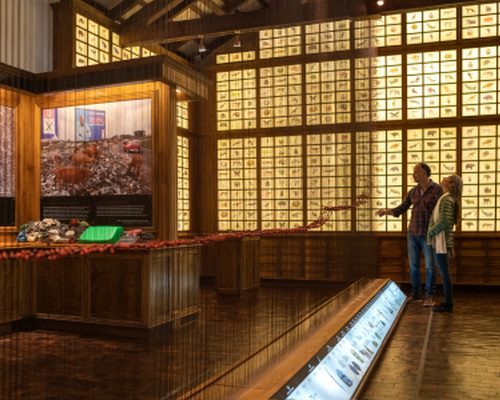 The Patagonia National Park Museum was built and designed by the Tompkins Foundation to educate the public on the importance of National Parks, conservation of ecosystems and the history, flora and fauna in the area.
Located in Cochrane, in the middle of the Patagonia National Park in Chile's Aysén Region and next to the Explora lodge, it combines the esthetics of a 19th century natural history museum with modern technology and attractive interactive elements. The subject is the landscape and the cultural history of the Chacabuco Valley, in addition to incorporating an emotional and inspirational narrative on the importance of National Parks and ecological loss and recovery.
It is composed of a large central room subdivided into 4 areas that cover the ecosocial crisis, flora, fauna and earth sciences, anthropology of the Chacabuco Valley and the colonization process and, lastly, an area for activism and questions regarding what to do about the ecosocial crisis. It includes interactive modules with immersive and holographic shows.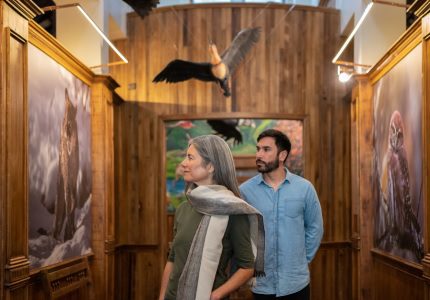 The core message is to raise visitors' awareness of the fact that we cannot wait any longer and must act now to solve the current environmental and social crisis.
THE ORIGINS OF THE PATAGONIA NATIONAL PARK MUSEUM PROJECT
The project began in 2009 with the building's design, which pays tribute to the old shearing shed of the former Patagonian estate of Valle Chacabuco. Work began in mid-2010 and was completed in late 2017, after which the interior was installed in a process that took over a year.
It is currently administered by the National Forestry Corporation (CONAF), after the Tompkins Foundation transferred the park's management to it.
INFORMATION
The museum is open to the entire public with limited capacity between September and April. Admission is free for travelers staying at the Explora lodge.
Information is available in English and Spanish. Opening hours are Monday to Friday from 9:00 – 13:00 and 14:00 – 17:30 and Saturdays and Sundays from 9:00 – 13:00 and 14:30 – 18:00.