El Chaltén: The near-mythical town in Argentinian Patagonia, infamous for its history, beauty and superlative summits
Mount Fitz Roy and Cerro Torre are two of the most famous massifs in South America and are legendary in the world of mountaineering. In their shadow lies the town of El Chaltén whose history was forged alongside this majestic landscapes. El Chaltén´s myths, and the legendary characters that inhabit them, are a major draw for any adventurous soul looking for an excuse to travel to these peaks at the tail-end of the planet.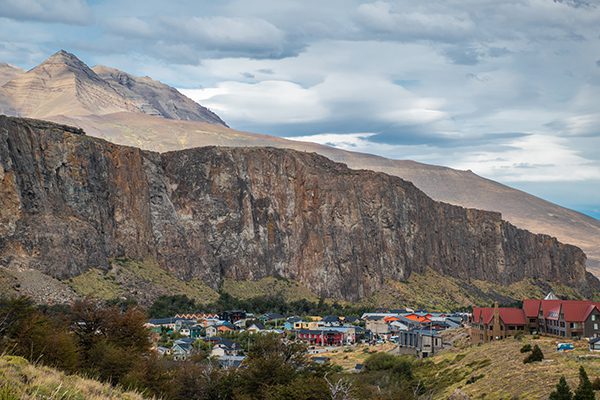 El Chaltén is nestled inside Los Glaciares National Park, to the west of the Argentinean province of Santa Cruz and to the north of the great Viedma Lake. Its history and foundation were protagonized by indigenous peoples, border conflicts with neighboring Chile and feats that marked the development of mountaineering and climbing worldwide.
Just ten years ago, El Chaltén had only 1,600 inhabitants, due to its remote location and harsh climate. Today, lovers of granite and wildly-challenging mountains make their way to the National Trekking Capital of Argentina, marked by its lagoons, Patagonian winds and unique biodiversity.
The birth of El Chalten
Officially only 40 years old, the history of El Chaltén goes much further back than in founding in 1985. Evidence has been recorded of human activity in this area some 10,000 years ago, with it later becoming part of the indigenous Tehuelche and Aonikenk peoples´territories.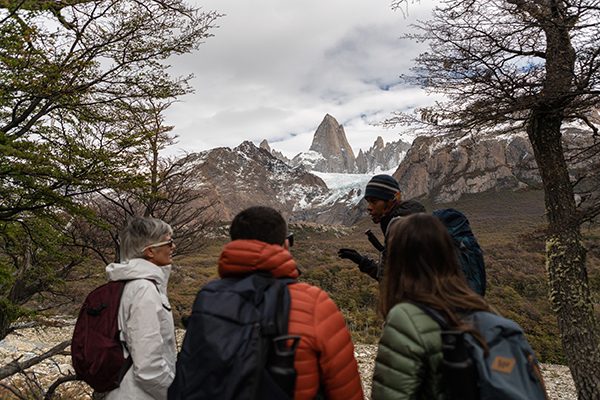 Indeed, "Chaltén" is believed to a mutation of a Tehuelche word – meaning bluish, sacred, serrated or smoking mountain, according to various sources – that was used to refer to 3,405m Mount Fitz Roy.
After the arrival of the Spanish in the 17th century, the Aonikenk saw themselves on the verge of disappearingCenturies later, a border conflict between Chile and Argentina occurred, particularly over the Lago del Desierto area, leading to Argentina making the geopolitical decision to found and populate El Chaltén in 1985. This ultimately resulted in a declaration of the territory as officially Argentinean in 1994.
Vicente Labate made his first visit to the El Chaltén area in 1994 when he traveled to the town with the intention of climbing Fitz Roy. Today he works as a mountain guide, climber and geographer and has lived in the town since 2005. After it was founded, Labate explains, El Chaltén began to be inhabited by people who came looking for new work opportunities, or others who had already found employment as state employees. Many others, however, simply came to live in the small town as they were mountain lovers.
"Here," Labate says of El Chaltén, "there is a significant proportion of the population that has a deep relationship with the mountains. Even those who do not come directly for the peaks, understand a little about what makes them such a draw. We have doctors, firefighters, bakers, teachers and students who all climb. Children go to the mountains from a very young age. The people who live here, certainly not all, but a good number, are aware of the responsibility that comes with living in this beautiful and fragile valley," comments Labate.
A wealth of mountain tales envelop this town. The area was visited in 1877 by the explorer Francisco Pascasio Moreno who named Mount Fitz Roy. Fred Otten and Andreas Madsen moved to live in El Chaltén over 100 years ago. Perhaps most notably the prolific mountaineer and Italian priest Alberto de Agostini explored the eastern slope of the Southern Ice Field between 1928 and 1932, making various ascents of the mountains that tower up from its glacier. During this period the priest named a significant proportion of the mountains in the area and set a new standard in El Chaltén´s climbing history.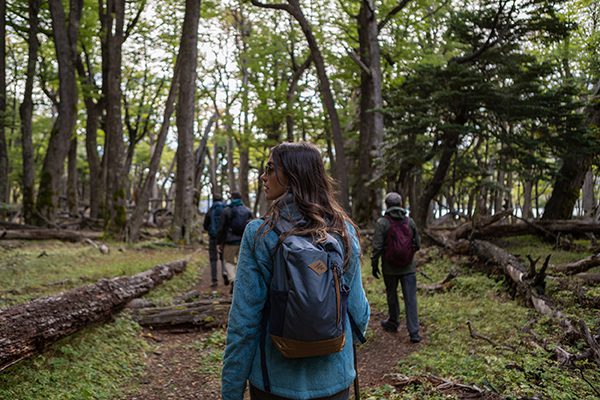 A cosmopolitan jewel set in an awe-inspiring natural landscape
El Chaltén is a biodiversity hotspot, rich with pumas (Puma concolor), guanacos (Lama guanicoe), huemules (Hippocamelus bisulcus), condors (Vultur gryphus) and black-chested buzzard-eagles (Geranoaetus melanoleucus). Andean-Patagonian forest and vegetation typical of sub-Andean Patagonia predominates here. Water courses with their warm turquoise color weave through the mountains, such as the Las Vueltas river, the Eléctrico river, the Blue Lagoon and the Cóndor Lagoon.
The combination of wild natural heritage and rich biodiveristy, draws lovers of mountain, remote areas and nature from all around the world.  This young town also draws scientists and researchers from fields such as biology, archaeology, paleontology, glaciology and conservation, among other disciplines, who seek to study the surrounding landscape.
"You could say that El Chaltén is a cosmopolitan town," says Aimé Ramunda, Head of Explorations at the Explora lodge El Chaltén. ¨There are people from all around the world with common interests who live together fruitfully and harmoniously. Their meeting of minds promotes development, exchange, culture and knowledge-sharing. There are many sporty people, but there are also scientists, which makes this a melting pot in terms of personalities and interests."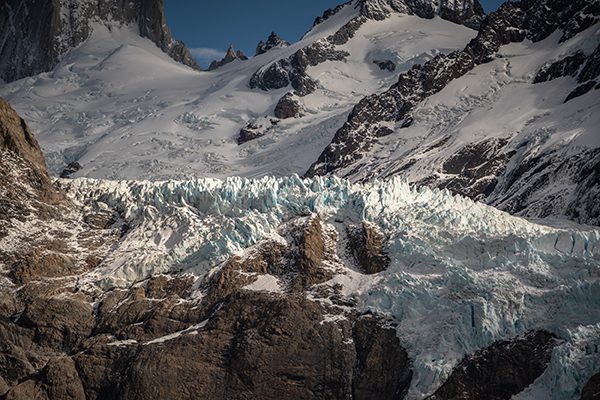 Currently, this relatively new place on the map has been characterized by its nascent mountain culture; folk music-happenings with local bands such as Siete Venas (Seven Veins) and important commemorative days such as the town´s founding anniversary. Community members also meet for litter sweeps and to celebrate the National Trekking Festival.
Cultural activities go hand-in-hand with the adventures that are to be had in the 726,927 hectare Los Glaciares National Park. One third of this area is glacial, with ice that is millions of years old.
"To travel by foot here is to understand the passage of time and the folds in the landscape you are traversing," Ramunda continues. "The glaciers were responsible for shaping the incredible mountains that surround us and are one of the largest freshwater reservoirs on the planet. We are intimately connected to an incredible vital source. To be here – even for a little while – provides a privileged and humbling connection to nature´s imposing greatness."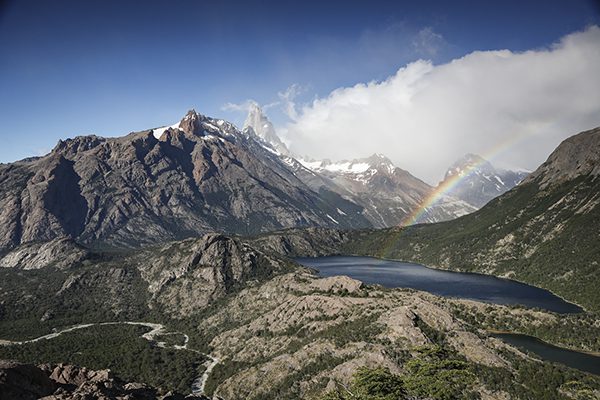 Crowning Stories: The throne rooms of Mount Fitz Roy and Cerro Torre
The 3405m granite shield of Mount Fitz Roy and 3133m spire of Cerro Torre dazzle between blue skies and brilliant white glaciers.  The former is located to the west of the Southern Ice Field; the latter on its eastern border. Both massifs and their respective summits have, and continue to be, the main objective of many climbers.
In 1937 the first attempt to reach the summit of Mount Fitz Roy was made by an Italian expedition, Vicente Labate relates.  It was composed of Giovanni Gilberti, Ettore Castiglioni and Leo Dubosc, and led by Count Aldo Bonacossa. During their attempt on the peak they camped at what they baptized the Capri Lagoon as well as the Los Tres Lagoon (The Three Lagoon). Both of these are iconic sites for any visitor to the El Chaltén area today.
Later, a group of Frenchmen, supported by the Argentinean President Juan Domingo Perón, laid siege to the mountain, with Guido Magnone and Lionel Terray finally reaching the summit in February 1952. It wasn´t until 1965 that an Argentinean expedition, comprising José Luis Fonrouge and Carlos Comesaña made the second ascent in just two days via a new route, considered to this day as the greatest ever accomplishment on Fitz Roy, according to Labate.
There are many impressive ascents and records on Fitz Roy. The full north-south traverse of the mountain range by renowned American climbers Tommy Caldwell and Alex Honnold in 2014 is certainly one of them. So to is the first ascent of Vía de los Californianos by Yvon Chouinard, Dick Dorworth, Chris Jones, Douglas Tompkins and Lito Tejeda Flores. 1986 saw the first winter ascent of Fitz Roy by a team composed of Argentinean climbers Sebastián De La Cruz, Eduardo Brenner and Gabriel Ruiz.
Cerro Torre´s climbing history is less clear-cut and open to controversy. For many years according to Labate, the Torre massif was considered the most complex and difficult climbing area in the world. One of the most-infamous expeditions was the 1959 Cerro Torre summit bid by the Italian mountaineer and writer, Cesare Maestri together with the Austrian Toni Egger. After reaching the summit and trying to descend, Egger was swept by an avalanche to the bottom of the Torre Glacier where he and his camera with evidence of the supposed successful summit were lost. Maestri, overcome by tragedy, was left to descend and narrate the story alone so that this Italian ascent might achieve the recognition it deserved.
For a long time after, Cerro Torre saw no ascents. Connoisseurs of the mountain begin to doubt Maestri´s account, ultimately leading to him returning in 1970 to climb the mountain again, this time in the company of a big team. This ascent, however, again fell into disrepute when Maestri failed to pass the mushroom of rime ice that often coats the summit, with critics arguing this did not constitute a full ascent.  Further teams, such as the 1974 expedition led by Casimiro Ferrari and the 1985 expedition by the Italian Marco Pedrini (that was documented for the 1985 film Cumbre (1985) also made attempts on Cerro Torre.
"Despite the mountains being just 10kms from town," explains Labate, "the approach to their faces is very technical. The granite is surrounded by glaciers, making the climbing inaccessible and inhospitable. Yet the draw of the vertical, adventure and incomparable beauty is strong. Add to this a town equipped with all modern services – including internet to monitor weather conditions, professional guides and up to date topos – and you have all the characteristics of a world class climbing destination."