Guiding for your culture: The tourism professionals who are keeping the traditions of the Incas' Sacred Valley alive
The Sacred Valley is one of the most famous destinations in the world. Its unique landscapes, incredible archeology and deep-running ancestral traditions are home to an inimitable pre-columbian civilization: the Incas. Local guides hold the key to understanding this fertile and unspoiled territory thats why guiding Sacred Valley is so interesting. Through their expert eyes and experiences, Ladera Sur invites you to marvel at the beauty and extant culture of the Peruvian Andes. The three guides we have interviewed let us into a world of indigenous ancestral knowledge as well as their continued lived experiences.

By Ladera Sur.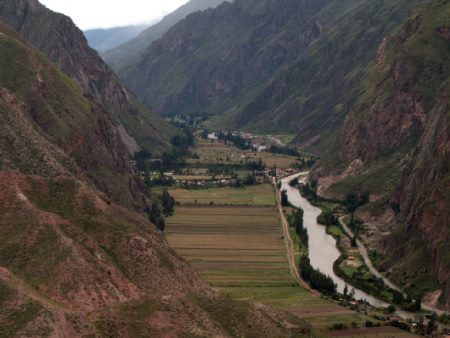 Located on the Urubamba River (known further upstream as the Vilcanota River) is the Sacred Valley of the Incas. On the majestic slopes of the Andes Mountains above this river, the imposing Incan settlements of Ollantaytambo, Urubamba, Yucay, Calca and Pisac are testimony to the once all-powerful Tawantinsuyu or ancient Inca Empire.
The great legacy of this pre-columbian empire is observable from the archaeological remains, including expansive cultivation terraces, imposing ceremonial sites, extensive cemeteries and sophisticated towns. Yet it is also the intangible Incan culture, transferred down the generations, that keep this heritage alive.
Local guides, endowed with these handed-down stories, are the great connoisseurs of this territory. Any traveler who visits the Urubamba region and interacts with these guides is sure to come away with a rich understanding of its history. Thats why guiding Sacred Valley is an important job.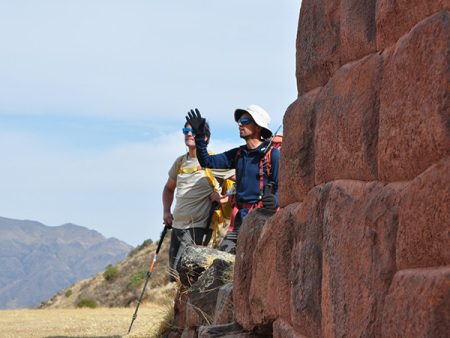 Luis Florez  ­– A guide born at the heart of the Incan Sacred Valley
When Luis Florez (35) was a child, the idea to be a guide came to him in a dream. Florez was born and raised in Ollantaytambo, renowned for its architecture and for being one of the most important starting points on the Inca Trail to Machu Picchu. Florez is currently a guide at Explora in the Incan Sacred Valley. He saw his parents work as chefs almost all their lives on the Inca Trail and it left a great impression on him.
"My parents worked on the infamous Salkantay and Ausangate peaks near Cusco. From a very young age I watched cooks, porters, guides and others return home from their work above 3,700m in the Patacancha basin. I saw how the guides worked alongside my parents. I saw how they worked in different languages and shared their culture."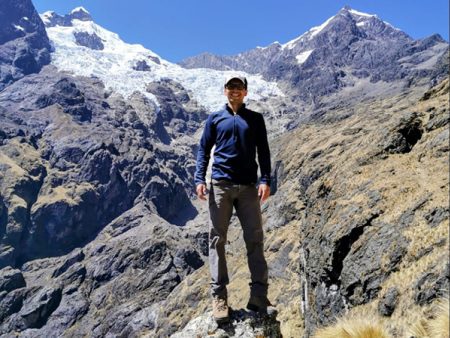 -How important is it for you to promote local traditions when guiding a group of travelers?
– The fact that I am local and that I can speak the local language Quechua helps a lot. I learned Quechua when I was little and I continue to study it today with my old classmates. When I am in a local community and I want to establish a kinship, I jump in and start talking. When I speak in Quechua, local people open up a little more. The conversation is friendlier. I become an intermediary between the traveler and the local Quechua-speaker. This creates a unique lived experience that cannot be found in any video or book.
-Do you have any particularly impactful guiding experience or anecdotes?
– A few months ago, during the potato harvest season, I was hiking with some travelers from Chile when we came across a lone man. He must have been between 50 and 60 years old. Maybe even older. We were walking nearby and I made a point of looking in his direction as a mark of respect. He caught my eye. "Come over!" he said. "How many varieties of potatoes do you think I have in this plot?" he asked. "5?", "20?" my group replied.  "No," said the man. "I have 250 varieties." He then proceeded to show us all of the varieties. These kind of experiences are invaluable.
-What does it mean to be a guide to your own culture?
– Immediately the word "ambassador" comes to mind. But it is more than that. It is to be a friend. It is to be that person who shares with you where they were born. Where they grew up. It is in these situations you create a profound connection with Inca culture. Somebody might walk by and I cut the explanation to the traveler short for a moment. "Uncle, good morning,"  "aunt, good morning" and "sister, good morning." It is through this intimacy created with the traveler, as I allow them into my life, that means they come away happy from their experience.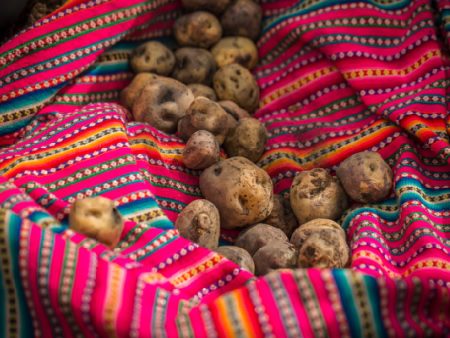 -Luis, what places are you particularly passionate about showcasing?
-The archaeological site Ollantaytambo is invaluable. It has very beautiful architecture; as beautiful perhaps as that of Machu Picchu or the city of Cusco. Walking through those terraces and demonstrating to the traveler that this is the crucible of history, architecture and our past; that´s just incredible.
Francisco Salazar – The dream of being a guide in the Sacred Valley
Francisco Salazar (29) is a guide at Explora and he works in the Sacred Valley. From a very young age he dreamed of a life surrounded by nature; of dedicating himself to high mountains and rock climbing. It was his early life on the coast of Lima where he realized this kind of life was for him. But it wasn't until he finished his tourism studies that he was able to fulfill his dream.
-What does it mean to you to guide at one of the most iconic places in Peru?
– I love my country, my culture and the plethora of other cultures within Peru. I feel I have a responsibility to showcase the great culture of the Sacred Valley. I like to communicate the soul of the place.
-How would you describe the culture of the Sacred Valley, its traditions and ancestral culture?
– It is rich and exciting. The people here are very animated. In such an environment it´s very easy to fall in love with a place. People here continue to have a sense of community. You feel it wherever you go: in the street, with your neighbors, in the market. Everywhere. The culture is Andean at heart. From this lifeblood, other cultures have taken root.  It is a place of amalgamation: in its music, in people's clothing, in religion and in festivities. Culture is something that is alive here. And there is a lot of diversity.
-Does being born outside the Sacred Valley gives you a different perspective on it?
-I think so. I see the Andean communities in a different way. I learned that they take care of the medium and high mountain ecosystems in order that we have water. I learned about their agriculture and what kind of animals they raise. I think that precisely because I grew up outside of the Sacred Valley I appreciate those things more acutely. I am grateful to be able to interact with this place, its biodiversity, spirit, culture, and gastronomy.
-What is the most notable form of cultural exchange that occurs between travelers and visitors to the Sacred Valley?
-I believe that each traveler comes with different interests or expectations, but I believe that everyone is looking for genuine experiences. The Sacred Valley is an area where the Andean communities have their own cosmovision. They care about their surrounding natural environment and live in eternal gratitude to Mother Earth.
Once, for example, we were in the puna, above 4,300 meters and we came across an alpaca giving birth. Imagine the scene. There were mountains as far as the eye could see, lagoons and a landscape entirely bereft of any signs of modern man. On the ground, next to the alpacas, there was a blanket woven by a local person, on hand to keep the newborn alpaca warm.  I think those are the moments that really connect you with the real spirit of this place, or as my friend Diego del Río says, to connect you with "the living Andes."
Vider Loayza – An adventure in the company of a local
All his life, Explora guide Vider Loayza (33), has lived in the Inca Sacred Valley. Loavza was born in Quillabamba, a province of the Cusco Region. At the age of 4 he moved with his family to the city of Urubamba, known as the heart of the Sacred Valley. Soon he became a professional national-level mountain bike racer, dedicated to opening new trails both on foot and by bicycle through the surrounding mountains.
"The Sacred Valley, as its very name suggests, is quite magical. Wherever we go, whether walking, by bicycle or by car; each place has an individual character. The vegetation, flora and fauna is all very varied. I learned a lot about traditional medicine or natural medicine and agriculture, because my parents are farmers. Here in the Sacred Valley, it´s the small details that you notice, such as the colourful cut, for example, of the local community´s clothing.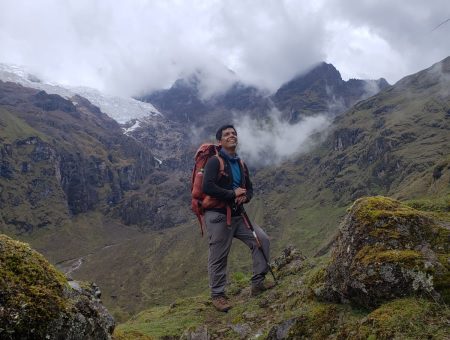 -How do you and your culture connect with travelers?
– My first language is Quechua. I communicate in Quechua. I teach Quechua and I trade stories with the native Quechua speaking people. Generally, on excursions, I like to teach travelers Quechua. Despite the fact that the language is in decline, I try to breathe life into it. Although my children don´t like it, I try to teach Quechua to them too.  Being a native language, it's attractive to travelers, but they do find the pronunciation a little challenging!
-What ways do you have of sharing your culture?
– My expertise lie in mountains, adventure and mountain biking. However, before becoming a guide, I worked in construction. I also taught ceramics, textiles, jewelry workshops and other activities related to my culture. When I am with a group of travelers, I like to share anecdotes and experiences with passion and enthusiasm.
-What does it mean to be a guide of your own culture?
– It is a way to keep our traditions in the Sacred Valley alive. In recent times many things have been lost, but by teaching both adults and younger travelers, they get excited and want to know and learn more. This is what motivates me to share and teach in a dynamic way that brings my culture to life.