5 reasons why exploring Torres del Paine is a unique experience
Exploring Torres del Paine is a unique experience. Golden pampas, turquoise lakes, glaciers and lenga and ñirre forests are the main landscapes that will surprise you when you when you visit this territory.

Horseback riding, close encounters with local fauna and the all-inclusive experience are some of the reasons why we invite you to live this unique experience with Explora, which was also chosen as the "World's leading Expedition Company 2022" in the World Travel Awards for the fourth year running.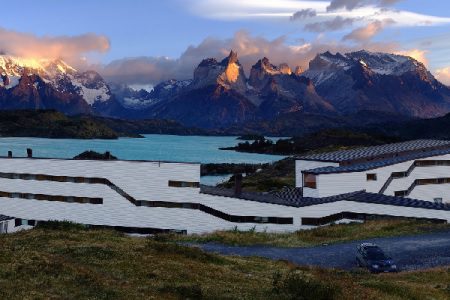 1. All-Inclusive Experience
Can you imagine having breakfast with a view of the Horns or enjoying a heated pool while looking out at Lake Pehoé?
At Explora the only thing we want you to worry about is enjoying your trip through a deep connection with the territory, which is why our all-inclusive programs include your accommodation, meals, open bar and airport transfers.* They also include all explorations, so you can go out and discover this dreamlike place together with our guides.
*Depending on your program.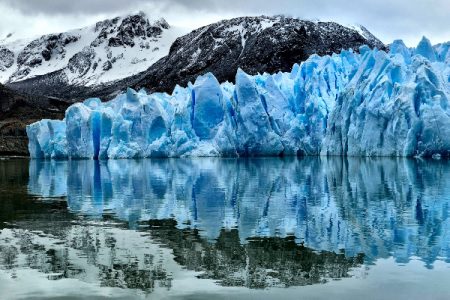 2. Explorations without limits
Exploring Torres del Paine is a unique experience. Hiking through a lenga forest or driving to Lake Nordenskjöld are some of the explorations that will allow you to immerse yourself in the biodiversity of the different ecosystems in the Torres del Paine National Park.
Two of this place's unmissable attractions are visiting the Torres Base, where you can appreciate the magnitude of the granite towers and the lagoon at its feet, and the Grey Glacier, which will leave you speechless before its immensity.
We have different types of exploration such as biking, horseback riding, overland crossings, high-mountain outings and self-guided tours so you can choose the one that suits you best. In addition, they all have different difficulty levels.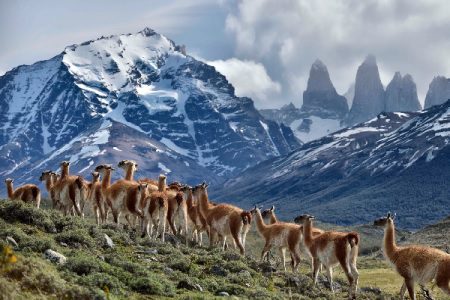 3. Wild encounters
During your visit to the park, you will be able to observe and be in contact with diverse local fauna such as huemuls, woodpeckers, foxes, pumas and guanacos, which tend to wander around the area. They are the area's true stars!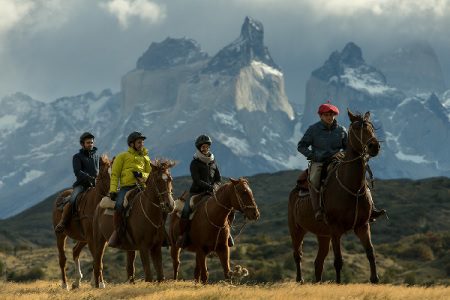 4. Horseback riding
Horses are loyal companions and an important part of the gaucho culture in the Patagonian steppes. Raised especially for this area through rational taming, they are in charge of taking you to explore different corners of the areas surrounding the park from another perspective.
Among our explorations, you can visit our Torres del Paine Conservation Reserve northeast of the park, which is a veritable expression of Patagonia's wealth, with its different ecosystems like Magellanic forest, pre-Andean scrubland, steppes and the Patagonian desert.
It does not matter whether you are advanced or a beginner; ask your guide about this or other available options and prepare for a Patagonian adventure.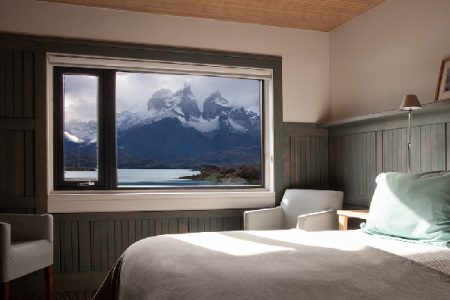 5. Explore the heart of the Torres del Paine National Park
There is no better place to be than that in the heart of Torres del Paine National Park. Our lodge is in a privileged location on the shores of the beautiful Lake Pehoé, offering amazing views from our rooms and restaurant, in addition to being strategically located to explore all the park's wonders. You will not find a better starting point for exploring the various areas of this unique territory.
It also has an indoor heated pool, sauna and four outdoor hot tubs overlooking the Paine River for your enjoyment and so you can connect not just with nature, but with yourself.