The world of fungi in Patagonia National Park
Autumn is without doubt a special time for those who visit the deciduous forest, not just for its colors, but also for the arrival of different types of mushrooms in Patagonia.
Mushrooms
They are neither plants nor animals but constitute a kingdom of their own: Fungi. In addition to being the great recyclers, in the Patagonia National Park they are associated with the nothofagus (southern beech) and the most emblematic of them is the morchella or morel mushroom. This mushroom is of exceptional gastronomic value and currently the third most expensive mushroom in the world.
Like plants, mushrooms are sessile, meaning that they live most of the time connected to a particular substrate. This can be soil, wood, or other bodies they can feed off of. Their fruit bodies responsible for producing spores for sexual reproduction grow up in the autumn (some also in spring).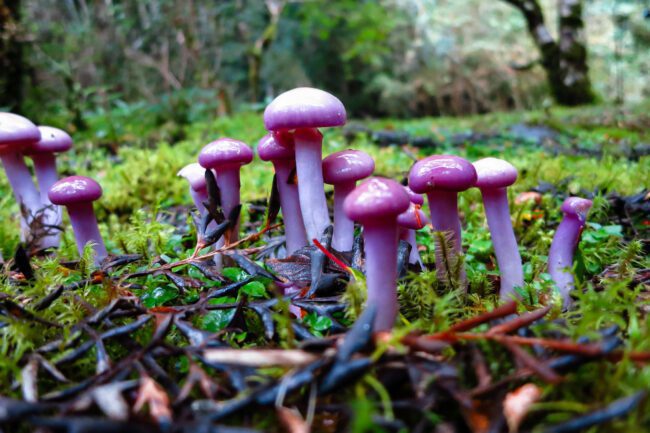 Patagonian Mushrooms
There are mushroom species in the Aysén Region that native peoples have historically used for food. The Tehuelches collect and cook the mushrooms popularly known as Pan de Indio or Pan de Monte (Cyttaria haroti).   In the case of digüeñes, or Darwin's fungus (Cyttaria darwinii), they are a traditional culinary ingredient of Mapuche populations. These mushrooms can be found on the trunks of different nothofagus species, which they are parasites of. This means that they cause certain damage to their hosts and, when this is the case, the trees have globous tumors called "knots" that obstruct their sap ducts.
As for the most colorful mushrooms we can find on the ground in this forest, the presence of Cortinarius magellanicus stands out, whose bright purple color can usually be spotted at the feet of coigües and lengas. While the jelly cup (Heterotextus alpinus) has a small fruit body, it stands out for its bright red color. Unlike the previous one, it grows on branches and deadwood that still retain the winter's moisture
(Image by Patricio Jiménez Barros)
Not all fruit bodies proliferate in the autumn; some also do so in the spring. This is the case of morels (genus Morchella) of which there is broad and distinctive diversity of genuses in the Aysen Region. It is distributed in the forest floor but can also be found in unexpected places like valleys, backyards and pastures. Morchella mushrooms are currently under threat from the "fever" among collectors and middlemen to obtain this mushroom, given its high commercial value.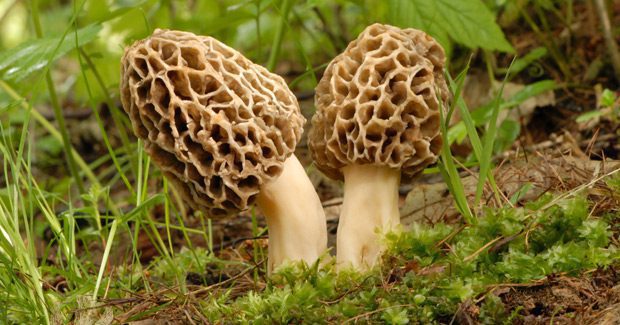 While morel mushrooms exist in other parts of the world, Claudia Gómez says that morels from the Aysén Region and the Patagonia National Park have a very unique flavor and organoleptic properties associated with nothofagus trees that differentiate them from other morels. Climate change, desertification, intentional fires and bad collection practices without sustainable protocols have put the presence of this delicious mushroom at risk. Today there are groups of collectors like Patagonia Intensa, whose president is Nils Campos, have taken it upon themselves to raise awareness of sustainable harvesting practices. They have also tried to avoid the use of middlemen to help local collectors who create morel byproducts. This allows this native product to recover every season.
(Image from agriculturers.com)
The Aysén Region has a considerable number of mushrooms, but the precise number is not known precisely, even less so in the Patagonia National Park. In general, there are few studies on fungal diversity in Chile, be it microscopic or macroscopic. However, it is an emergent area where there are currently many groups willing to study these small beings that flood forests and pampas.
*This information was obtained thanks to Sánchez Jardon et al, 2017.